Self-fill memorial jewellery keeps a loved one close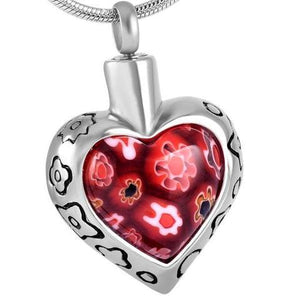 Self-fill memorial jewellery keeps a loved one close by Kristina Kennedy-Aguero
Self-fill memorial jewellery lets you keep a loved one close by. This can bring much comfort and can help in the grieving process.
What kinds of self-fill memorial jewellery are there?
We offer two ranges of self-fill jewellery.
The value range
The value range has a wide selection of pendants at a very accessible price. There are forty different styles to choose from, including hearts, butterflies, cylinders, teardrops, angels, and many more. Each piece is beautifully crafted in bright, shiny stainless steel. This will not tarnish and will keep looking good for many years to come. Each pendant comes with a 22-inch chain. These items of self-fill memorial jewellery are in stock and you can have them sent by next-day courier service.
The Precious Metal Range
The precious metal range has pendants made from .925 Sterling Silver or 9k Gold. Silver pieces are normally in stock and so available for next-day delivery. They have a Rhodium plating which prevents tarnishing and scratching.
We make the yellow, white or rose gold pendants to order, so the delivery time for these is four to six weeks. Each pendant comes with a matching eighteen-inch chain. In this range, you will also find self-fill charm beads and a bracelet.

Both ranges have a one-year warranty and come beautifully packaged in a small gift box.
Where do the ashes go?
All of these pendants have a hollow centre which you access by removing a small discreetly positioned screw. We include a special little screwdriver and a tiny funnel to make filling easier. Alternatively, if you would prefer us to fill it for you we will send you a small sealed bag to send us some ashes.
The inner chamber has space for just a small pinch of ashes. Once you have got them inside you simply replace the little screw. This has a rubber gasket to make the compartment water and airtight and to keep the ashes safe. Some people choose to place a drop of superglue onto the threads of the screw, so permanently sealing the chamber of this special piece of self-fill memorial jewellery.
Why choose self-fill memorial jewellery?
Our extensive range of memorial jewellery that incorporates the ashes into a special resin that is set into the piece, is very popular. However, some people do not feel comfortable sending off the precious ashes of their loved one and so the self-fill range suites them better. Additionally, these pendants have varied prices and the value range offers exceptional value for money while still being very well made and attractive. Finally, self-fill memorial jewellery is the perfect present to give to someone who has recently lost someone special.