Silver Memorial Jewellery for Christmas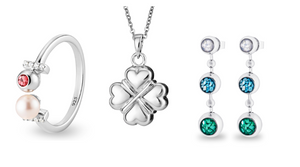 Silver memorial jewellery is a lovely option for a very special Christmas gift. Choose from our extensive range of self-fill and bespoke pieces of silver memorial jewellery for a unique Xmas present.

Many people find comfort and peace having a part of their departed friend, family member or beloved pet accompanying them always. This is a gift that will be cherished forever and something that will show just how much you care.
Self-fill range of pendants
These pendants have a hidden chamber that you access by removing a small discreet screw. We include a tiny funnel to make inserting the ashes into the compartment easy. The screw has a little rubber gasket that makes the compartment water and air-tight to keep the ashes safe. Alternatively, when replacing the screw, a drop of superglue on the threads will seal the chamber permanently. We offer a value and a precious metal range that have many different styles and prices to fit all budgets.
These pendants are a good choice for gifting as the recipient can insert the ashes themselves.
Custom-made silver memorial jewellery
Our bespoke range of silver memorial jewellery includes pendants, lockets, rings, bracelets, earrings, beads, and cufflinks. You will need to be able to send a small amount of cremation ashes to us in order to create the piece of jewellery. That makes this type of silver memorial jewellery ideal for a family member of someone who is very close to you.
We select pieces of ash to place within the coloured resin to create a beautiful profound effect. The special resin is UV-resistant so it will not fade or change colour and you can choose from twelve different shades. If you wish, you can also include some real diamond dust to create an extra magical sparkle.
Glass lockets with elements
These lovely glass lockets open so you can insert elements containing cremation ashes within. The elements come in different forms and sizes and several can enter into each locket. This is an ideal gift as you can purchase the locket and just one element. Then, the recipient can add more elements to create a very unique and personalised locket that can hold the remains of various loved ones.
All of our pendants and lockets come with a silver chain included. Or, you can choose to upgrade to one of our new range of chains that come in different lengths and styles.
Each piece of silver memorial jewellery comes in a small presentation box that is ideal for gifting.
Bespoke orders are normally completed in seven working days after receiving the ashes. However, as this is a very busy period we would advise that you order now to avoid disappointment.
All of our memorial jewellery is also available in rose, white, and yellow 9k gold. As these are individually made to order they will not be ready for Christmas. However, they are a very lovely option for an upcoming birthday or anniversary. Remember to order four to six weeks in advance to ensure that your chosen piece arrives for the special day.