Tealight miniature urns, a touching Christmas gift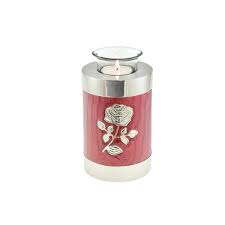 Tealight miniature urns, a touching Christmas gift by Kristina Kennedy-Aguero
Tealight miniature urns are a touching Christmas gift option. Not only are they an elegant ornament in their own right. They also have space to guard a token amount to ashes of a departed loved one. For someone who has recently lost someone special, this could be a very much appreciated present this Christmas.
What are tealight miniature urns?
They have a brass base with a wide range of different designs. This opens to allow you to insert some ashes within and then seals securely. Above there is a small glass cup. Inside you can place a votive candle, either a real one or a battery-operated one.
When you light the candle the warm light illuminates the beauty of the craftsmanship. Many people find that concentrating on the flickering light of a real candle allows them to focus and calm their thoughts. Some find that this tranquillity brings many happy memories flooding back.
What a very special Christmas gift a tealight miniature urn could be for someone you care about.
What are they made from?
The little urn at the bottom is crafted from brass, so it has a cool, solid feel to it. They are about five inches high and three and a half inches in diameter. Each one is decorated finely and there are eighteen different styles to choose from and various colours. Some depict roses or sunflowers, others have birds or butterflies. Others have intricate geometric designs or deep rich colours. There are also some with pawprints on to remember a special pet.
The tiny glass candle holder sits into a round hole in the top of the little urn.
Many of our tealight miniature urns match larger urns and some have matching photo frames as well.
How do I order a Tealight miniature urn?
Just click here to see the entire selection. Choose which one you like and then select your preferred secure payment option. If you wish, we can send your chosen tealight miniature urn directly to the person. It will be carefully packed and gift wrapped and comes with a small cloth bag in a velvet presentation box.
You can be sure that anyone reiving this special gift will be most grateful for the chance to have their loved one close again. Chrismas time can be very hard after losing a loved one, so this could really bring some peace and joy to someone you love.