Teardrop-shaped urns - a modern alternative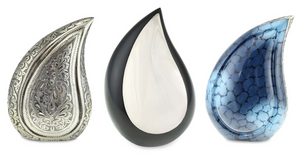 Teardrop-shaped urns are a lovely modern alternative for a special place to keep cremation ashes. While traditional urns are lovely, urns in the shape of a teardrop can blend in easier with modern decors. Additionally, the symbol of the teardrop is so moving and appropriate at this sad moment.
Our range of teardrop-shaped urns
Click here to see our full range of teardrop-shaped urns.
We offer urns in the form of a teardrop made of brass and aluminium. Some have finishes in nickel silver and Pewter. Others have rich colours including blue, yellow, black, and white. Some are ornately engraved and decorated, while others are smooth and highly polished.
These urns come in two sizes.  The large size has a capacity of 200 -cubic inches and can hold the cremation ashes of an adult weighing up to 14-stone (90-kg). The miniature or keepsake size has a capacity of 3-cubic inches.
Many of the styles are available in both sizes, and some models also offer matching photo frames and tealights.
Why choose a teardrop-shaped urn?
The lovely rounded forms of these urns make them very comforting to hold in the hands. This can help people to still feel the presence of a departed loved one. Observing the fine details of these lovely urns can bring people comfort and a feeling of peace. Additionally, they look more like a work of art than an urn, and some people prefer this if they are keeping the urn in their home.
How to order your urn
Our ordering process is very simple and easy to follow. Make your urn selection and then follow the instructions. We offer various different payment methods and our prices are very competitive. Normally, we will ship your urn as soon as we receive your order and many people get their package the very next day. Our courier company will give you a time-slot so you know when it will be arriving.
If your chosen urn is not in stock, we will advise you immediately so you can select another option or we will let you know how long delivery will be.
Receiving your teardrop-shaped urn
Your urn comes inside a cloth bag within a lovely black velvet presentation case. This protects it on its journey and you can also use them for safekeeping or for gifting.
All of our urns are carefully inspected before shipping to ensure that your purchase arrives in perfect condition.
We try to make the entire process a fast and stress-free as possible to make things a little bit easier at this sad time.