Travelling internationally with cremated remains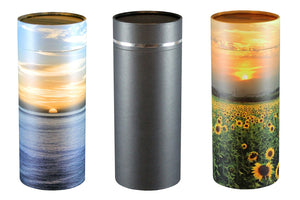 Travelling internationally with cremated remains can be problematic. Make sure that you investigate each step of the journey to make the experience smooth and trouble-free.
Taking cremated remains to a final resting place abroad
It the last wish of the departed was to have his ashes spread abroad, you need to get busy. You should first investigate the regulations for bringing cremated remains into the destination country. Some countries, such as the Philippines, consider cremation ashes to be the same as a dead body and impose strict restrictions. Closer to home, some European countries can also be very strict. Some countries will only allow created remains to enter the country via a registered funeral director. Make sure that you can comply with all the country's requirements to avoid problems on arrival.
Taking cremated remains on a commercial airline
Different airlines have different policies regarding the transportation of cremation ashes. Some require that they travel as checked baggage while most permit them to be taken onboard as hand luggage. Most people prefer to carry them on so that they know that they are safe. You should place the ashes into a non-metal container which is securely sealed. A specially constructed scattering tube is ideal for carrying cremated remains.  You should have with you the cremation certificate along with a statement from the crematorium that the container only contains the cremated remains of the deceased. You will also need a certified copy of the certificate of death. Security officers will not open the container if it can be screened and you meet these requirements.
Entering the destination country
The embassy of the destination country should be able to assist you with all the requisites. If you have complied with all the requirements there should be no problem. Some countries will require that you notify customs upon arrival.
The final resting place
You should check prior to arrival if the selected spot for dispersal has any restrictions. You will need to seek permission from the landowner if it is on private land. If it is in a public place be respectful of the local traditions and behave in a discreet and decorous manner.
Importing cremated remains into the United Kingdom
Before travelling back to the UK with the cremated remains of a British citizen who has died abroad, you must register the death in the UK. You should check on, and comply with any requirements in the country that you are travelling from. Upon arrival in the UK, you will need to fill out several forms at customs. You will need to have the death and cremation certificates and the deceased's passport.