Who is allowed to officiate a funeral service in the UK?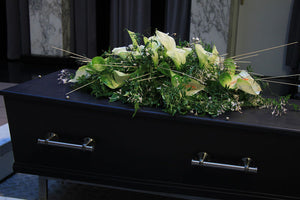 Surprisingly, the answer is that anyone can conduct a funeral service. Having a funeral is not a legal requirement.  The choice of whether to have a funeral or not depends on the wishes of the deceased or the relatives. There are many different types of funeral service.
Religous funeral service
Priests and vicars traditionally lead funeral services. Most religions have a set service which includes appropriate readings and prayers. If the departed was a member of a religious establishment it is normal for their religious leader to perform this final act. Different religions have distinct formats and executions.
Not all religions require that the deceased was an active member to receive the service. In the Church of England, for example, even if the diseased was not a regular churchgoer the clergy will conduct the funeral service in a church.  Although there is a set order of service, it can include the participation of family members and friends if they so desire. They can request special readings or hymns that were favourites of the deceased.
Civil funeral
These are funerals conducted by a civil celebrant who does not form part of a religious belief system. The funeral does not have a set form and the celebrant  tailors it more to the family's requirements. Some civil funerals may include religious content such as scripture reading and prayers, if the family wishes. However,  a civil celebrant will be unable to perform rites or blessings.
Humanist service
A humanist service contains no religious content. While humanist services express sadness for the loss, they focus more on a celebration of life. This type of service is ideal if the departed was not a believer in the existence of God and an afterlife. A civil celebrant can officiate a moving dignified service in accordance with the departed's viewpoint.
Do-it-yourself
A friend, family member, or anyone, can conduct the service. Some families choose to share the task between various members. Planning a do-it-yourself funeral can help the grieving process. Communicating and talking together about the diseased can ease the pain. It can provide an opportunity to share feelings at this difficult time.
Usually, one person leads the order of service. They should be comfortable speaking in public and have a clear speaking voice. Other family members or friends can perform readings, eulogies and elegies.
Organising a do-it-yourself funeral service can be a very cathartic and special process.