Arranging a funeral during the current COVID-19 lockdown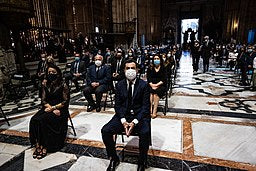 15 Feb 2021, Kristina Kennedy Aguero
Arranging a funeral during the current sanitary crisis must comply with government guidelines to protect public health. That means that a reduced number of people can attend the funeral and that they must obey the social distancing protocol. The government has consulted with leaders of different faiths to allow funerals to take place in a controlled and safe way.
Arranging a funeral
At the present time, you should make all the funeral arrangements by telephone or online. Alternatively, employing a funeral director can make arranging a funeral much easier. They are aware of the latest restrictions and will be able to liaise between the various agencies. A funeral director can take care of recovering the body from the hospital, and taking it to the funeral home and then to the funeral location. Afterwards, they can take the body to the crematorium and arrange the retrieval of the ashes.
Can you still view the body at the funeral home?
In most cases, it is still possible to view the body prior to the funeral. You must arrange the exact time for each viewing. The viewing groups must consist only of people within the same sanitary bubble. If the cause of death was COVID-19, you should not touch the body, as there is still a slight chance of infection.
How many people can attend a funeral?
Currently, there is a limit of thirty mourners. These should be close family members of the deceased or people with whom he lived. If neither of these exists, close friends may attend. Attendees must remain a minimum of two metres apart and there should be no physical contact with other mourners. The wearing of masks is compulsory during the funeral and throughout during the journey to and from it. Anyone with Coronavirus symptoms or with a positive test must not attend.
Although most places of worship are not open for normal services, they are still holding funerals. You can check the latest information about funerals in the Church of England here. For general information about Muslim funerals during the pandemic click here, and for Jewish celebrations click here. Or check directly with your local church, mosque, or synagogue.
Celebration of life
The current restrictions mean that the funeral will not be at all like the usual sharing and comforting experience. For this reason, many people are deciding to have a celebration of life at a future date instead of a funeral now. Doing this means that friends and relatives will be able to get together to remember a departed loved one when it is again safe to do so.
Families are choosing to have a cremation either with a few or without mourners. They will then keep the ashes in a beautiful urn until such time when larger gatherings can again take place.