Baby Loss Awareness Week 2020, Oct 9-15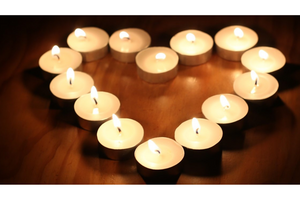 Baby Loss Awareness Week 2020 is a time when parents, families, and friends can express and share their feelings and emotions about the loss of a baby.
Coping with the loss of a baby
Losing a baby during pregnancy, birth, or shortly after birth is devastating. The grief that parents and families experience is like no other. Many initially find difficulty expressing their emotions and coping with life. Support from family and friends is vital.
Unfortunately with the current COVID-19 situation, it is not so easy to get together with loved ones. Making use of technology and keeping in touch virtually can really help though.
Often the mother and the father of the infant react in different ways. Sometimes they become distanced and unable to communicate. Now, more than ever it is essential to express your feelings to those closest to you. Only those within your 'bubble' can give you a hug, which is sometimes what we need most. Also, our memorial bear gives a great comforting hug.
Fortunately, there are also many online resources and organisations that can help you to find the strength to cope with your loss. Here are some links to related organisations. The Ectopic Pregnancy Trust, The Sands Organisation, The Bliss Organisation, and the Miscarriage Association 
What is Baby Loss Awareness Week (BLAW)?
This is the eighteenth year of celebrating BLAW around the world. This year, the Baby Loss Awareness Foundation is organising different virtual workshops and events every day. Listening to the advice of experienced professionals in grief management can help you to encounter your path through this difficult time. Also, sharing your experiences with others in a similar situation can really help. So, take the opportunity to participate.
Child loss is a frequent occurrence, particularly during pregnancy. The loss of a child, especially at the early stages of pregnancy can be difficult for others to understand. Many people who could offer support may not even have known that you were pregnant. That is why it is so important to speak about your loss openly and honestly. There is plenty of help available but you must seek it.
Baby Loss Awareness Week 2020 provides the ideal opportunity to broach the subject. Once you start to talk and express your emotions you will help the natural healing process to advance.
The loss of a child will always be painful but with time, you will learn to accept, and to carry on with a full and happy life.
Join together with people around the world who have lost a child by lighting a candle at 7pm on October the 15th. Take the opportunity to celebrate the all too short of your child and begin your journey back to the light.