Bespoke memorial rings - our most popular designs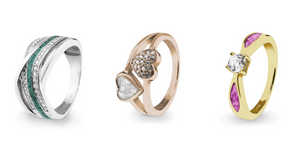 Bespoke memorial rings allow you to design a unique piece of jewellery to honour and remember a loved one.
What are bespoke memorial rings?
We create unique memorial rings with cremation ashes incorporated. In fact, you can include any dry substance that is small enough.
Some people choose hair, fur, tiny pieces of a letter or a poem, flower petals, leaves, or sand from a favourite place. Please, feel free to contact us if you would like advice as to whether we can include something different in you bespoke memorial ring.
Unique and varied designs
We offer a wide choice of different designs of rings. Some are simple and discreet, others are extravagant and are sure to be noticed.
All of our bespoke memorial rings have a mount where a tiny amount of ashes of a departed loved one can be set in our special resin. Some even have various mounts where you can specify which ashes, in which colour of resin will be set.
The resin comes in twelve different colours and when set, has the appearance of a polished stone. Our resin has a UV filter that prevents fading and discolouration. Additionally, the special resin sets to a very hard finish that will not scratch, chip, or deteriorate with use.
We have many different designs for men, women and unisex.
Features of our bespoke memorial rings
As well as a choice of twelve distinct resin colours, additionally, you can choose to add a pinch of real diamond dust into the mix to create a really magical sparkle in the sunlight.
How do I order?
First, choose the style of ring you like.
Next, select if you would like it in .925 Sterling Silver with a Rhodium plating or in 9k Rose, White or Yellow gold. If you choose a silver ring, your finished ring will be with you in just 7 days after we receive the ashes from you. Gold rings will take up to three weeks, as we will craft them individually.
After placing your order we will send you a kit. This includes a ring sizer to ensure that you order the correct size. It is easy to use and very accurate Also, you receive a tiny sealed plastic bag in which to return a small amount of ashes to us using the Freepost envelope. Our jewellers select the ashes that will look best in the colour and design or ring you choose, and will return then rest to you with your completed order.
Our most popular memorial ring designs
Ladies Sterling Silver Waves Memorial Ashes Ring with Swarovski Crystals
Also the Ladies Sterling Silver Cherish Memorial Ashes Ring with Swarovski Crystals
And the Ladies Sterling Silver Solitaire Memorial Ashes Ring with Swarovski Crystals