Brass Urns are still the most popular choice in 2019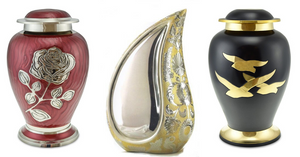 Brass urns still remain the most popular choice. While brass is perhaps the most traditional material for urns, there is nothing antiquated about our collection. Our modern selection offers something for everyone.
Why are brass urns so popular?
Brass urns have a real and undeniable presence. They feel solid, cool, and comforting to the touch. Their fine flowing lines relax the gaze. Their exquisite designs refreshen and lighten the heart.
Also, they last forever. They do not deteriorate over time, and, with care, even if buried or kept in a columbarium, they will retain their beautiful looks for many, many years.
Why choose a brass urn for a loved one's ashes?
You can be sure that the ashes of your departed loved one will be held safe and secure within a brass urn. The nature of the material means that elements such as water or sun will not affect the peaceful rest of the ashes within. Brass does not rust, discolour, or degenerate over time. Furthermore, all of our brass urns have a special seal on the lid to ensure that moisture, dust, or other contaminants are unable to enter the sealed inner compartment.
This means, you can be sure that the precious ashes will remain undisturbed and safely protected within their lovely last resting place.
What kinds of brass urns are there?
There are traditional forms with curvaceous flowing lines and a classic pedestal. We also offer brass urns in the form of teardrops with a variety of different finishes. Brass urns can come in many different colours and with a multitude of different designs in brass or nickel silver.
Some of our most popular designs include the one with flying birds coming home to rest and the one with gentle floating butterflies. Other popular designs include roses and sunflowers, while some people opt for a detailed geometrical engraved pattern.
Take your time to contemplate our selection of urns to decide on which one would best suit your circumstances.
What size urns are there?
We offer brass urns in standard and double size. The larger urn has the capacity for the ashes of two people of normal size so that they can remain together forever. We also have miniature and keepsake brass urns and tealights.
How do I order?
Take your time to contemplate our selection of urns to decide on which one would best suit your circumstances.
Follow our simple ordering process, make your payment, and your urn will normally be dispatched the next working day. It will be delivered to your door in a black velvet bag within a presentation case and securely packaged.