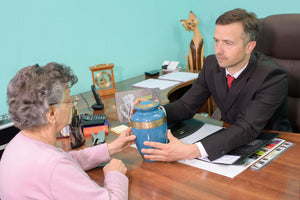 Some people like the tradition and formality of a conventional graveyard, while others may prefer a more natural setting, the convenience of an urn garden at the crematorium, or the privacy of their own garden.
If you have a religious belief, and would like for your loved one's ashes to be buried in a place approved or administered by a religious group you should talk with your spiritual leader to advise you about the options available for your faith.
Cemeteries are run both by churches and local authorities. In church graveyards, you may be obliged to have a religious ceremony to be able to bury cremation remains there, and bear in mind that exhumation of remains from consecrated ground is a very complicated process. Cemeteries run by local authorities allow you to make whatever ceremonial rites you desire and exhumation is allowed if the correct paperwork is done. Be sure to check out carefully all the details, like the size of the plot, the length of the lease, the maintenance costs, etc.
If you already have a family burial plot, it is usually possible to bury a cremation urn with ashes on top of or beside an existing grave. Most graveyard plots are large enough to bury four individual caskets, but be sure that you get the approval for the new addition from all the family members.
Natural, woodland or green burials are becoming increasingly popular and there are many natural ashes burial sites around the country. These are usually located in places of outstanding natural beauty and offer a lovely peaceful place to which you can return to visit the remains with the security that the site will be well maintained, that the ashes will remain peacefully undisturbed and that the burial will be recorded so that future generations can visit. Find out more information here.
If you choose to bury the ashes in an informal setting such as your garden there are a few rules which should be followed. You will need permission from the owner of the freehold of the chosen spot. A Certificate of Authority for Burial from the Registrar of Births & Deaths must be obtained and the slip detailing the place and date returned within the stipulated time frame. An informal register of the burial needs to be kept by the land or homeowner.
If you are planning to leave the ashes permanently in the chosen spot you may want to use a wooden urn which will biodegrade, or if you wish them to remain intact you should choose a brass urn or an aluminium urn in which to safeguard them.