Child urns - a hard purchase we try to make easier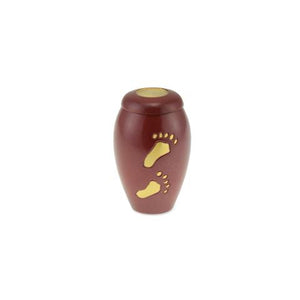 Child urns - a hard purchase we try to make easier by Kristina Kennedy-Aguero
Child urns are a purchase that no one wants to have to make. Losing a child is devastating, whatever the circumstances. To help grieving parents, we try to make buying a child's urn as simple as possible.
What sizes of child urns are there?
Child urns come in a variety of different sizes. This allows you to select the ideal size to hold safely the precious ashes of your loved one.
The smallest size has a capacity of 35 cubic inches. It can hold the ashes of a child weighing up to 2.4 stone. A child urn with a capacity of 41 cubic inches can accommodate the ashes of a youngster weighing up to 3 stone. While those of 50 cubic inches capacity can hold the cremated remains of a child with a weight of up to 3.5 stone.
For bigger children, the large size of urns has a 200 cubic inch capacity and can hold a child or youth weighing up to 14 stone. While the teardrop urns can accommodate the ashes of a child weighing up to 11 stone with their 150 cubic inch capacity.
What designs of child urns are there?
Our urns are handcrafted in brass and beautifully finished. There are many different designs for children including tiny footprints and teddy bears. Some have classic forms and elaborate details. While others are simpler and less ornate.
If you are planning to scatter the ashes of your child, we offer a selection of small scatter tubes with appropriate designs. You can also use these to permanently store the ashes or to travel with them.
Child keepsake urns
We also offer miniature child urns. These little urns hold just a token amount of ashes. Many people find comfort in holding these tiny urns in their hands or having them nearby. Many of the designs match the larger urns.
Additionally, there are miniature urns with tea lights. These can bring much comfort contemplating the flickering flame.
The memorial bear is a lovely way to still have your child close and cuddle them. Inside there is a small pouch where you can safekeep a small amount of your child's ashes. The soft fur of the keepsake bear will calm and soothe you as you hold him. Also, his gentle smiling face will make you feel better, even at this sad time.
Simple ordering and delivery
Our website is really easy to navigate. When you have decided which urn you want to purchase you will find it simple to place your order. Additionally, we offer a variety of safe payment options. Most child urns are in stock and will be shipped the next day. Most come in a velvet bag within a presentation box. Furthermore, the courier will arrange a convenient time window for delivery.