Choosing and caring for your cremation urn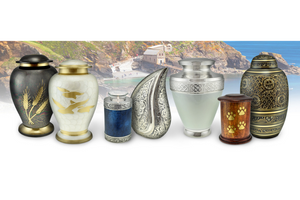 A cremation urn is a very special object. It should be chosen with care and treated with respect. At Cherished Urns, we offer such a wide selection of different urns, that it can be hard to choose. So here are some hints to make selecting one easier, and some care tips to keep your urn looking great.
To display or to bury?
First, you should decide if the cremation urn you wish to purchase will be on display, or if you plan to bury it in the earth or to have a water burial.
Best cremation urns to display
Many people choose to place the urn containing the cremains in a columbarium or in a special place in their home. Here, the urn will be visible and so you may want to choose a more ornate or elaborate urn. Some people use the cremation urn to contain the ashes for a time before deciding to scatter or separate them. Afterwards, you may want to use the urn to safeguard photos or memorabilia of the deceased.
Brass has long been the metal of choice for cremation urns. It feels heavy, solid and cool to the touch. We have a wide range of brass urns in both traditional and modern styles. Most have a screw-on lid to keep the ashes secure. Brass urns will not deteriorate over time and only require polishing occasionally to keep them shiny.
Aluminium urns are becoming more popular as they can offer more detailed and intricate decorations. They also come in more modern forms. They keep looking good with little care and are usually less expensive than a brass urn.
Wooden urns and caskets are very popular. Traditional fine hardwoods with beautiful grains make a tasteful display. Alternatively, modern MDF options offer a cheaper alternative. You should use wooden furniture polish to nourish the wood to keep your wooden urn clean and shiny.
What sizes do urns come in?
Most adult cremation urns have a capacity of 200-cubic inches. They will hold the cremated remains of a person weighing up to about 14-stone(90-kg), although the amount of cremated remains produced can vary.
Child urns come in different sizes. One with a 40-cubic inch capacity can accommodate a child up to 3-stone (18-kg). An urn with a capacity of 150-cubic inches can hold the remains of a person weighing up to 11-stone (69-kg).
Larger urns with a capacity of 365-cubic inches can hold one or two people with a total weight of up to 25-stone (165-kg).
All of our urns come with a velvet bag and a black velvet presentation box.
Next week we will take a look at urns for burying.