Create a special memorial for a departed loved one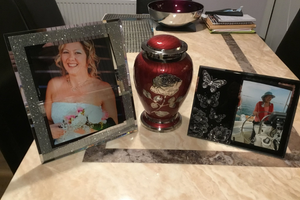 Many people like to create a special memorial to a departed loved one. It is a lovely way to commemorate a life.
Why create a special memorial?
A special memorial created to the memory of a departed loved one can bring comfort and peace. Creating a beautiful space dedicated to a deceased person can help us to focus our thoughts and calm our minds. It allows us to create a special place where we can honour and mourn our dead. Where remembering and weeping are allowed.
How to create a special space
Choose a space in your home where you are able to freely express yourself. Some people choose somewhere where others can appreciate their creation. Others choose to make it a more private and intimate space.
What to include
You can include anything that brings back happy memories of the deceased. Photos, a favourite piece of jewellery, an item of clothing, a painting etc. A special urn in which to safekeep the cremation ashes makes the perfect centrepiece for a moving display.
Many of our most popular urns are also available with matching keepsake urns or tealights. Some, also have matching photo frames. You can use these matching items to create a very special personalised display.
Alternatively, some people choose to keep most of the ashes in an urn in a columbarium. They have a matching miniature keepsake urn that they keep with them. These little urns come with a black velvet bag and a presentation case so you can carry them with you for comfort, anytime and anywhere. A matching photo frame with a special photo on the bedside table can bring peace at bedtime. Likewise, lighting the tiny candle in a matching tealight urn can help to focus our thoughts and allow pleasant memories to float into our minds.
Some of our urns come with the same motifs in different colours, and these can be successfully combined to make an interesting display.
Some people purchase three matching urns or ones that complement each other. They use the centre one to hold the ashes and the other two to hold beautiful fresh flower displays.
Other people choose to use one urn for the cremated remains and another to hold special memorabilia of the deceased.
There are many ways to commemorate a lost family member, friend, or pet, and creating a beautiful peaceful place for reflection and remembering can really help the healing process.