Cremation urns to keep ashes safe until the funeral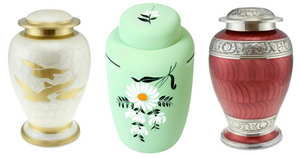 Cremation urns can keep ashes safe for a short or long period. With the current restrictions regarding large gatherings, many people are postponing the funerals of their loved ones. A cremation urn allows you to keep the ashes in a beautiful and secure place until it is convenient to hold the funeral.
Why wait for the funeral?
There are restrictions on large gatherings with the current COVID-19 crisis. That means that funerals held now can only be a small, family affair where you must observe the social distancing norms. Many people are therefore choosing to cremate their departed loved one and wait for a more opportune moment to celebrate their life or hold the funeral.
Cremating your loved one.
There has never been a better time to choose cremation over burial. A cremation can take place shortly after death, and the ashes are returned to the family promptly. Cremation offers a more economical and ecological option than burial. Also, at the moment, you may have a long wait to be able to bury your loved one.
Cremation urns to suit all tastes and budgets.
Cremation urns come in a variety of different materials. For a traditional urn, you can choose from brass, aluminum, or wood. These urns seal hermetically so that the ashes inside will remain intact for a long period of time. Neither air nor moisture will enter, and if you wish you can keep the ashes in them indefinitely.
However, you can also use traditional cremation urns as a lovely way to store the ashes until the funeral. Then, you can bury the urn, store it in a columbarium, scatter the ashes, or return it to your home. Many people choose to create a special place for the temporary storage of ashes in cremation urns. They often create a lovely display with photos of the deceased and other memorabilia. Some people choose matching miniature cremation urns, tealights or photo frames to create their tribute to their departed loved one.
Biodegradable cremation urns.
You can also choose a biodegradable cremation urn for the temporary storage of ashes. For a biodegradable urn, available materials include salt, cornstarch, paper, and natural gourds. These materials will hold the ashes safely until they are buried or placed into water. Then, these materials will biodegrade and release the ashes into the environment. Although they are not hermetically sealed, you can still keep ashes in a biodegradable urn for a long time.