Custom-made memorial jewellery- to keep a loved one close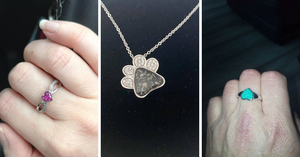 Custom-made memorial jewellery lets you create your own very special and personal way to remember a departed loved one.
How to choose the right company to create your custom-made memorial jewellery.
There are many different options for memorial jewellery available these days. However, not all companies who offer cremation jewellery offer the same service or product. To create a personalised piece of memorial jewellery you should choose a respected company that you know you can trust. Check out the reviews of our satisfied customers. They will show you why we are your best choice of company to create your piece custom-made memorial jewellery.
Why choose Cherished Urns?
We have been creating custom-made memorial jewellery which include a loved ones's ashes for several years.
Our skilled team of jewellers will craft your chosen piece of jewellery to your exact specifications.
Our ordering process is simple and we offer a wide choice of jewellery to choose from.
Each piece of jewellery is individually hand-crafted with care, attention to detail, and respect.
You can choose .925 hallmarked Sterling Silver. Additionally we offer yellow, white or rose 9k gold as the base metal for your piece of jewellery.
We have twelve different resin colours to choose from in which to set the ashes of your loved one.
You can also choose to add a pinch of real diamond dust to the resin mix to create a magical sparkle.
Our service is exceptional
At Cherished Urns, we do our utmost to offer a caring and efficient service. As soon as we receive your order we send you complete instructions along with a sealed bag. You return this to us with some of the cremation ashes via Freepost. We also include a ring-sizer so you can make sure that you order the correct ring size. Additionally, at this time we ask you to confirm all the details of your order.
As soon as we receive the ashes we send you a confirmation e-mail. We know that sending precious ashes through the post can be stressful, so we do our utmost to alleviate your worries. We will send you regular updates as to the progress of your piece of custom-made memorial jewellery.
Custom-made memorial jewellery to be cherished forever
Our skilled craftsmen lovingly create each individual piece of jewellery. His or her name appears on the certificate of authenticity. Additionally, this document shows the name of the person's ashes which are in the jewellery.
We deliver each piece of jewellery in a presentation box which is ideal for safekeeping or for gifting.