Extraordinary Urns for Extraordinary People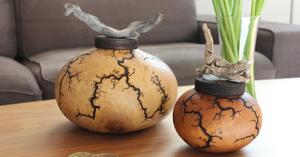 Traditional urns are lovely, but they may not be perfect for everyone. Check out these unique and extraordinary urns that we offer, for that unique and extraordinary person.
Gourd urns
These gourd urns are a natural work of art. Gourds grow in the south of the USA where artists create these extraordinary urns from the dry fruit. Each one comes with a unique piece of driftwood and a cast bronze memorial medallion embellished with a "Tree of Life" which hangs on a leather thong. The gourd has a hole in the top to insert the ashes and this seals with a natural cork stopper. This urn is biodegradable, and, after burial, it will decompose. However, it will remain intact indefinitely if you choose to keep it in a dry place.
Himalayan Rock Salt Urns
These extraordinary urns are over 250-million years old! Pink rock salt is a rare material that only exists in the mystical Himalayan mountains. Local artists hand-craft each urn from a solid block of salt. Each one is unique with different tones and variegations. This urn is water-soluble and will dissolve in the sea, a lake, or a river within four hours. If buried, this urn will biodegrade slowly depending on the moisture of the soil. If kept in a dry place, it will remain intact indefinitely.
Corn Starch urns
While these urns have a more traditional aspect they qualify as an extraordinary urn because they are biodegradable. Made from natural corn starch, artists individually hand-paint each one with non-toxic paints. You can use it to store ashes permanently in your home or in a columbarium. Alternatively, if you bury it, it decomposes completely in the ground.
Extraordinary urns made of paper
For a water burial, what better than an extraordinary urn featuring a design from the sea. These urns float on the surface of a body of water for several minutes before slowly sinking to the bottom. Here, they will completely decompose within a few hours. Artists individually handcraft each one from recycled paper bound with a non-toxic glue.
Choose from turtles, lotus flowers, sand dollars, dolphins, or shells.
Teddy Bear Urn
This Memorial Bear keepsake urn is the cuddliest of our extraordinary urns. Insert a token amount of ashes or another keepsake within him and give him a hug. Youngsters and adults alike take comfort from holding this charming bear close to their heart.