Funeral Flowers and other Expressions of Sympathy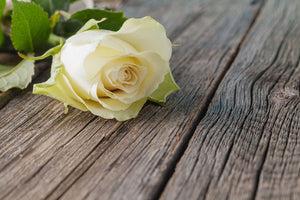 Funeral flowers used to be an essential part of any burial service. Now, however, many families ask mourners to express their sympathy in different ways.
Funeral flowers or not?
Many mourning families get great joy from the floral tributes they receive at the funeral. The beauty of the arrangements and the individual details of each flower can be inspirational. The overall impression of a coffin decked with flowers can be uplifting at a time of sadness.
Some families, however, feel that floral tributes are destructive and depressing. They may request another expression of solidarity. Frequently they choose to ask mourners to make a donation to a specific charity. Often one that helped or was special to the deceased.
Choosing an appropriate floral tribute
Funeral flowers can take many different forms. Choose from funeral wreaths, a bouquet of sympathy flowers, or a coffin pray. They can be a clear expression of sentiments, actually spelling out a message with the flowers. Or, the choice of flowers can reveal a hidden feeling.
White lilies, in the language of flowers, represent, rebirth, purity and restored innocence. They have long been a popular choice of funeral flower. Sweet-smelling Rosemary has been part of burial rites since Roman times. Include it in your bouquet as a symbol of remembrance. Pink carnations say 'I'll never forget you', and Heliotrope,'you are loved'. Aspen leaves symbolise sorrow and lament and ivy expresses loyalty and friendship. Orchids represent purity and eternal love, while Marigolds express grief and eternal devotion.
Choosing and combining funeral flowers can say a lot about your feelings for the deceased.
Alternatives to funeral flowers
If the family instructs 'no flowers', but do not specify an alternative, here are some ideas.
A potted plant- is a longer lasting alternative to funeral flowers. Choose one that is hardy and requires little care, as a grieving person may not remember to water it.
Seeds- a symbol of new life. These may inspire someone to plant a memorial garden, which can be very therapeutic.
Candles-choose an aromatherapy candle to calm or a specially selected candle to focus thoughts and meditate.
Something soft and cuddly-a sympathy teddy bear, or an embroidered blanket can offer emotional comfort.
Food- sending a basket of home-baked cakes is a practical expression of concern that will be much appreciated.
Whatever expression of sympathy you choose always include a  note with it. These short messages let people express their sentiments in just a few simple words and mean a lot to the bereaved.