Heart keepsake urns bring comfort and peace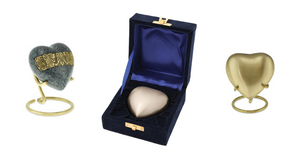 Heart keepsake urns can bring comfort at this sad time. Their gently rounded form sits perfectly in your hand. You will feel that your departed loved one is still close by and accompanying you. The cool, solid sensation of the brass against your palm will centre and ground you. Also, the touching heart shape will fill your own heart with happy memories that bring you peace.
What choices of heart keepsake urns are there?
We offer a selection of sizes, finishes, and decorations in heart keepsake urns. They are all made of brass, which is durable, weighty and always has a cool and comforting feel to it.
You can choose from the pewter finish, which has a silver colour, or, the bronze finish which is more golden.
These heart keepsake urns come in three sizes, with diameters of 3, 3.5, and 5-inches. The smallest size measures approximately 7.5 x 7 x 4.5-cm. It can hold a tiny pinch of cremation ashes- about 0.08-litres. The medium size has a capacity of 0.15-litres and measures 8.5 x 8 x 5.5-cm.
You can select an unadorned, matt finish, or, for a special pet, you can choose the ones with two touching paw prints engraved into them.
Packaging of heart keepsake urns
Your keepsake urn comes in a small blue velvet box with satin lining which is ideal for safekeeping it. You can carry the little heart safely with you in your bag or pocket and remove it to find comfort holding it in your hand, whenever you need to.
Alternatively, the lovely presentation box is perfect for gifting so that other family members or close friends can also find comfort having the departed person close by still.
How do I order?
Choose which size and finish of heart miniature urn you desire. Indicate how many you wish to buy and click add to cart. Be sure to include your discount code now, if you have one. The price displayed includes VAT and Free UK Delivery.
We offer a choice of secure payment methods including GPay, PayPal, and Amazonpay. Of course, you can also use your credit or debit card. Additionally, if you wish to spread out the payments you can choose to pay with Klarna by selecting the pay later option at the checkout.
When will I receive my urn?
The standard shipping time is 2-3 days. However, if we receive your order before 6 pm we will dispatch it the same day and you will often receive your urn the next day. We will email you as soon as the urn is sent to confirm the address and time of delivery.
Warranty.
All of our heart keepsake urns have a one year warranty.