Memorial jewellery that you can fill yourself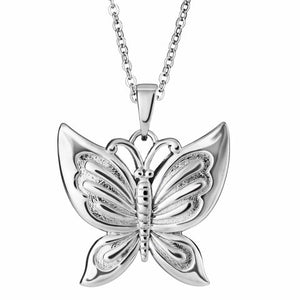 Memorial jewellery that you can fill yourself by Kristina Kennedy-Aguero
Memorial jewellery comes in many different forms, and self-fill items are one of the most popular. We offer two ranges of self-fill memorial jewellery, the value range and the precious metal range. Many people find great comfort in having a small amount of a loved one's ashes accompanying them always.
What is self-fill memorial jewellery?
It is a piece of jewellery that contains a hidden compartment where you can insert a tiny amount of cremation ashes. We mostly offer pendants in our self-fill ranges but there are also charm beads for a Pandora-style bracelet.
To access the inner chamber you remove a small screw. We will send you a tiny screwdriver to remove and replace the little screw. Additionally, we include a miniature funnel and a small prod to make getting the ashes into the piece of jewellery as simple as possible.
We do also offer a filling service if you would prefer to send us the ashes and we will insert them for you.
The tiny screw has a small rubber gasket that makes the compartment water and air-tight to keep the ashes safe. Some people, however, choose to add a drop of superglue onto the treads of the screw when they replace it. This will permanently seal the inner chamber.
The value range of memorial jewellery
The Value range offers a choice of forty distinct pendants at a very accessible price. There are many different styles to chose from and each one is meticulously crafted in bright, shiny stainless steel (316L). Hearts, crosses, and butterflies are among the favourites. Some are sleek and simple while others are intricately decorated. There are pendants with stones, and glass inserted in a variety of colours. Some are designed more for men, others for ladies, but most are Unisex. The ones to commemorate a special pet are particularly sought after.
Every pendant comes with a twenty-two-inch stainless steel chain.
The precious metal range
This range of self-fill jewellery includes a range of over seventy unique pieces including pendants and charm beads. These pieces of memorial jewellery are lovingly crafted from .925 Sterling Silver and most can be made to order in yellow, white, or rose 9K gold. Each one comes with an eighteen-inch chain in the same material. Take your time to make your choice as there are many stunning options to choose from.
Why choose memorial jewellery you can fill yourself?
This type of cremation jewellery makes an ideal gift for someone who has lost a loved one. Each piece comes in a small gift box so it is ready to give as a very special present.
Additionally, some people do not want to part with any ashes, even for a short while, to have a piece of memorial jewellery made from them. This option allows them to always have the precious ashes with them and gives them complete control of the filling.