Memorial rings containing a loved one's ashes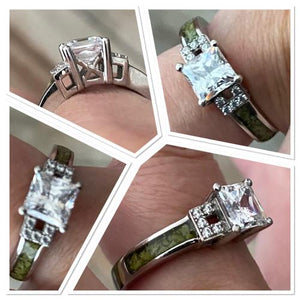 Memorial rings containing a loved one's ashes by  Kristina Kennedy-Aguero
Memorial rings containing a loved one's ashes are one of our most popular products. They are a very special way to keep a departed loved one close.
What metals are memorial rings available in?
We offer memorial rings crafted from .925 Sterling Silver and also in White, Rose, or Yellow 9k Gold. Our collection offers a wide choice of different styles from modern to classic.
Each ring contains one, or more mounts where we carefully insert the resin containing the cremation ashes. The resin we use is UV-resistant so it will not fade or change colour over time. Additionally, it sets to a really hard finish that will not scratch, chip, or break. Furthermore, there are twelve lovely colours to choose from and we can create custom colours on request.
Why do we use resin for our memorial rings?
Memorial rings can also be made from glass, but resin has many advantages.
Resin allows us to position the ashes so they look amazing. Our jewellers will select the best pieces of cremains and carefully place them into each layer of the resin. The end result is incredible, as the ashes appear suspended within the resin in an ethereal way. Our expert craftsmen can offer advice as to which resin colour will best complement the colour of the ashes.
Additionally, resin offers the advantage of entering into any shape of  mount, no matter how complex. This allows us to offer an unrivalled choice of memorial rings.
Furthermore, we can add diamond dust into the resin mix to add a subtle sparkle when the light catches on it.
Resin is also much lighter than glass, so it is more comfortable to wear. It's also a lot safer, as glass can chip, shatter or break easily.
How do I know what size to order?
When you place your initial order, we will send you a package containing a plastic ring sizer. This will let you take an accurate measurement to ensure a good fit. Most of our ladies rings come from size J to V while our gents rings are available from M to Z. Additionally we have an adjustable ring, which is ideal for a gift.
Along with the ring sizer, we send you a sealed plastic bag and a prepaid envelope to return a small amount of ashes to us. We will email you as soon as we receive them to put your mind at rest. Additionally, we will return any ashes that are left over after creating your memorial ring.
How long will my memorial ring take to make?
After we receive the ashes, we will have your Silver ring ready in seven working days. Gold rings take longer, around six weeks, as they are individually crafted. We let you know as soon as your ring is ready and the courier will arrange a one-hour delivery window.
Each ring is lovingly packed in a gift box. Additionally, we include a certificate of authenticity with the name of the person whose ashes are in the ring and the name of our jeweller who created this lovely item for you.