New funeral attendance numbers announced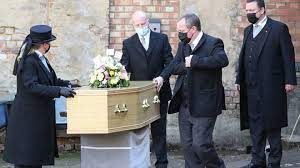 New funeral attendance numbers were announced today. Soon mourners will be able to unite in larger groups to say farewell to loved ones.
Funeral attendance numbers limit eased

The current limit is for a maximum of thirty mourners at a funeral. However, from May 17th there will not be a fixed limit to the number of people who can attend a funeral. The number of attendees will be determined by the capacity and features of the venue itself. Social distancing guidelines will still have to be adhered to.  But the new ruling applies to both outdoor and indoor venues. You can find the full details here.
This forms part of the government's Step 3 roadmap out of lockdown. The scrapping of the mourner limit was not expected to take place for another month. However, current data suggests that it is safe to implement this change now. As we begin to return to a more normal life this is an important step. Sharing and expressing grief over the loss of a loved one is an mportant part of the healing process.
Communities Secretary statement

The Rt Hon Robert Jenrick MP, the Communities Secretary, said:
"The British people have made huge sacrifices throughout the pandemic to  protect the NHS and save lives. Nowhere is that more apparent than in the deeply painful restrictions on the numbers attending funerals.
Losing a loved one has been incredibly hard during the pandemic. I am pleased we are now in a position, thanks to everyone's continued efforts and the rollout of the vaccine, to remove these limits and allow more friends and family to come together and pay their respects.
I look forward to working with faith leaders responsible for places of worship, and those who manage venues such as funeral homes, to introduce the new arrangements in a way that continues to keep people safe."
The National Association of Funeral Directors statement
As reported by the BBC, Deborah Smith, from the National Association of Funeral Directors, said she was "very pleased" at the planned change.
Some venues may not have the space to increase numbers much because of social distancing. However, as Ms Smith said, "it does mean that those larger venues can now start welcoming more mourners".
"It just gives that little bit of choice for families who do have lots of family members and lots of close friends, that they can choose a venue that is a little bit larger."