Rings - How to Accurately Measure the Size of Your Finger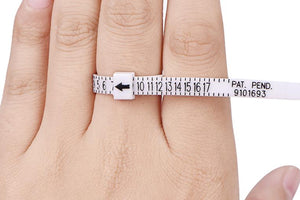 Rings come in a wide range of sizes to fit everyone. So, it is important to correctly measure your finger to get a good fit.
How do I measure my finger?
When you place an order for one of our memorial rings, we will send you a Multisizer™ Precision Finger Gauge. This gauge gives an accurate measurement and is really easy to use.
How do I use the Multisizer gauge?
The gauge looks like a tiny belt. Simply pass the end of the belt through the little buckle. Place the gauge onto the finger you wish to measure. Pull on the loose end to tighten the belt. Take the ring sizer off your finger and put it back on several times to make that sure you have adjusted it correctly. It should just slide over your knuckle bone, and must not slip off too easily.
Remember that your hands may swell a little when hot, or shrink a little when cold. Also, some peoples fingers are fatter in the morning. Try the sizer on at different times of day to ensure the correct measurement.
You can see a video showing how to use the Multisizer here.
How do I order the correct size ring?
When you remove the correctly adjusted Multiszer you will see a small arrow indicating a capital letter. This is your ring size.
In the UK ring sizes are expressed with a capital letter from A to Z. A is the smallest and Z the largest. Most ladies have a ring size of between J and L. Mens fingers typically range in size from P to Z. We have a wide selection of memorial rings for both ladies and gentlemen. Some are traditional, while others are more modern.
With your ring sizer, you will also receive a small container in which to place a tiny amount of the cremation ashes which will be incorporated into your ring. Check that the ring that you have selected is available in your size. Then select your size from the drop-down list and confirm your order. Make sure to indicate if you would like some real diamond dust mixed in as well.
How can I know another person's ring size?
If you are purchasing a ring as a surprise for someone else, you can use the ring sizer to secretly measure the size of one of their existing rings.
Alternatively, you can opt for an adjustable ring which will fit all finger sizes.