Rings made with ashes make perfect Father's Day gifts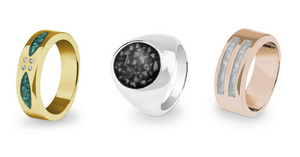 Rings made with ashes are a very special gift for Father's Day, as each ring is individually handcrafted to create a special memorial to a departed loved one.
Gentlemen's memorial rings
We offer two styles of rings made with ashes, especially for gentlemen. There is the classically elegant Gents Signet Memorial Ashes Ring and the modern-style Gents Traditional Memorial Ashes Ring.
We also offer a choice of five unisex rings which are suitable for both ladies and gentlemen.
What are they made of?
Our rings are finely crafted from either .925 Sterling Silver or from 9k Gold in Rose, White, or Yellow. The silver and white gold styles have a Rhodium plating to prevent tarnishing and scratching. Some rings include brilliant, shining Swarovski crystals.
How do we create rings made with ashes?
We individually craft each of our rings. As you can choose from twelve different resin colours, you can create a personalised tribute.
First, a tiny amount of the cremation ashes is mixed into the resin, and some people also choose to add a pinch of real diamond dust to create an extra sparkle.  Next, the mixture is carefully entered into the mount of the ring. This is a slow and delicate process as we build the resin up layer upon layer to create the magical effect of the ashes suspended and floating ethereally within.
When the resin sets it looks like a beautiful polished stone. The ashes are clearly visible, set safely and permanently within. The resin is very tough and will not crack or chip. It is also UV resistant so it will not change colour.
How to order?
First, choose the style of ring and the colour of resin and mark the add diamond dust option if you would like extra sparkle.
When we receive your order we will send you back a packet with a ring sizer and a special sealed plastic bag to send us a small amount of the ashes. Don't worry, we take great care of them and if any are left over we will return them to you.
Next, confirm the ring size and details and return the packet to us in the Freepost envelope we send you.
How long does it take?
Most Sterling Silver rings are ready in seven days. However, for gold rings, it may take a little longer.
As our rings made with ashes make the perfect gift for Fathers Day we are receiving a lot or orders. So place your order soon to ensure that this very special gift arrives in time.