Scatter tubes for ashes are versatile and ecological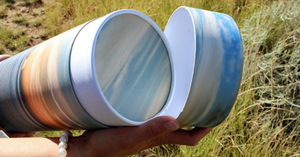 Scatter tubes for ashes are the ideal way to ensure that the dispersal of the cremated remains is a calm and beautiful moment. Additionally, they are perfect for transporting cremation ashes safely and securely.
What are scatter tubes for ashes?
They are heavy cardboard tubes that come in different sizes and designs. The secure-fitting lid ensures that the ashes remain safely within during transportation. However, when it is the moment to scatter the ashes the push-in easy-release tab permits a calm and controlled opening for a tranquil final farewell.
Scatter tubes for ashes are biodegradable, or compostable. That means that they are an ecologically friendly choice.
However, as they are so attractive many people choose to keep them and reuse them as storage jars for other things. Some people put them on display to remember that special moment and mementoes of the deceased in them.
Aditionally, in a dry place, you can safely store the ashes in a scatter tube for several years.
What sizes of scatter tubes are there?
We offer two sizes. The large size has a 240-cubic inch capacity and is 37cm in length. It can hold the ashes of as adult weighing up to 105-kg. The smaller size is 13-cm tall has a 20-cubic inch capacity and is ideal for an infant or a small pet weighing less than 9kg.
The tubes fit comfortably in the hand to give control during the dispersal of the ashes.
Are there different designs?
Yes, we have more than twenty designs to choose from. These include a choice of plain colours, a variety of flowers, and various stunning photos of places of natural beauty. Additionally, there is a charming teddy bear design ideal for an infant and a light-hearted 19th hole design.
The photos are produced in high-resolution with bright colours, fine details, and superb clarity.
Can I take a scatter tube on an aeroplane?
Yes. You can actually take them in your hand luggage within the plane. This means that you do not have to worry about lost or delayed luggage. Flying opens up many possibilities of places where you can scatter the ashes. Maybe you want to do it in the company of family members in another part of the word. Or in a favourite vacation spot.
While it is not normally necessary to declare that you are carrying human remains you might want to check with your airline beforehand.
Also, it is advisable to have all of the necessary paperwork with you to prove what is in the tube to avoid any need to open it to verify.
Finally, remember to check any local regulations regarding the dispersal of ashes at your chosen destination.