Sterling Silver Self-fill Pendants for Christmas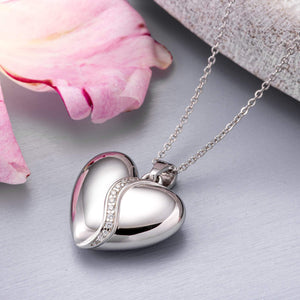 Sterling silver self-fill pendants are a lovely way to reunite someone with a departed loved one this Christmas. If you order now, someone you care about could experience the joy of having their loved one with them again through this festive season. This time of year can be very hard to face without that special someone. So, this touching gift could make someone very happy this Yuletide.
What are Sterling Silver Self-fill Pendants?
They are finely crafted pendants that have a hidden inner chamber. This is accessed by removing a tiny screw located in a discreet place. That means, that it is not obvious that there is something within the pendant. So, the recipient can keep the precious contents a secret if they wish.
We supply a special little screwdriver to remove the screw and then replace it after filling. There's also a tiny funnel and a metal pin to aid with the insertion of the ashes into the sterling silver self-fill pendants. Once inside, the rubber gasket on the screw makes an air and water-tight seal to keep the ashes safe. Some people, however, choose to seal the compartment permanently by placing a drop of superglue onto the screw threads.
What styles of pendants are there?
Sterling Silver Self-fill Pendants for Christmas by Kristina Kennedy-Aguero
We carry over fifty different designs of sterling silver self-fill pendants in our premium range. We also offer a value range of self-fill pendants made of stainless steel.
In the premium range, there are many different designs, including hearts, stars, infinity signs, flowers, butterflies, bones, and shells. Some are very intricate while others are simple and stylish. There are modern styles and traditional ones. You are sure to find something to suit as we cater to all tastes.
Every pendant is meticulously crafted to the highest standards. The details are amazing and the hardest part is choosing which one you like best.
Each pendant comes with a simple eighteen-inch chain. We also offer Sterling Silver chain upgrades . These are available in different lengths and styles.
Can you send the pendant to a different address?
Yes, we can send the gift-wrapped pendant directly to the recipient if you wish. It will be elegantly presented and safely delivered. When you place your order simply put the address of the person you wish us to ship the pendant to.
Sterling silver self-fill pendants are a lovely way to show you care. The recipient will know that you are thinking of both them and their departed loved one.
Order now to ensure Christmas delivery and bring joy into the heart of someone you care about at this special time of year.