Tea Light Miniature Urns, a special way to remember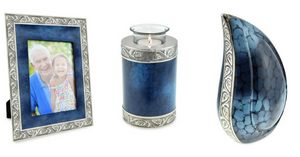 Tea light miniature urns are a lovely way to remember a departed loved one. They come in many different styles and colours to suit all tastes.
What is a tea light keepsake urn?
A tea light miniature urn has a small brass keepsake urn base. Into this, you can insert a token amount of cremation ashes. Set into the top of this sits a small glass cup. You place a tea light candle, votive candle, or even an LED candle into this. When lit, the gentle light accentuates the beautiful decoration and fine craftsmanship of the dainty miniature urn.
Why choose a tea light miniature urn?
Lighting a candle has long been a common way to honour a deceased person. These little tealights offer a safe and lovely way to light a small candle to remember a dear departed.
Gazing into the flickering flame can be very relaxing and allow our minds to wander back to the past. Many people find great comfort while mediating and observing the ever-changing flame. Happy memories come flooding back to bring peace and tranquillity.
Which tea light miniature urn to choose?
Most of our keepsake tea light urns match a large urn and some have matching photo frames.
There are many lovely colours to choose from including pewter, white, red, purple, pink, black, yellow, and blue. Some have beautiful embellishments in brass, bronze, or pewter. There are beautiful floating butterflies and a touching image of graceful birds flying home to rest. Some have delicately depicted roses, others have bold and beautiful sunflowers. Others have finely detailed engraving work with intricate designs. Some have paw prints, to commemorate a special departed pet.
Take your miniature tea light urn with you.
Our tea light cremation urns come with a velvet carrying bag so you can take them with you wherever you go. When away from home, many people find comfort holding the urn and feeling the cool solid weight of the brass. Some like to light the candle at night before sleeping to feel a link to their departed family member, friend, or pet.
Tea light miniature urns make a perfect gift.
All of tea light keepsake urns also come with a black velvet presentation case. This is the perfect way to make a touching gift to a close family member or a special friend of the departed.