Using Scattering Cremation Urns For Dispersing Ashes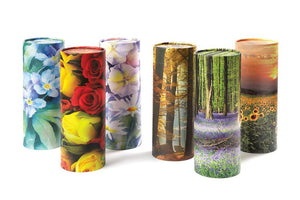 The world comes to a standstill whenever a person dear to us passes away, and though we are comforted that we shall meet again, the pain is often too much to bear. In reality, it is a sad state of affairs, especially in our minds and hearts, and we often wish and hope that we could have an extension of the sweet times. While this is not possible, we can deal with the pain swiftly and cherish the memories we shared for the rest of our lives. We have to move on beyond the pain and hurt that seems endless and though it will last forever.
Urns come to our assistance during these sad movements as they offer a secure place where we can store the crematory ashes and keep them near us. Urns come in different sizes, shapes and designs giving you an opportunity to get the urn that suits your requirements.
Scattering cremation urns are made for the sole purpose of dispersing the cremation ashes to nature in a respectful manner. Your loved one could have indicated that they wanted their ashes scattered and not stored. You can achieve this by using a special urn that gives an opportunity of celebrating the life of the deceased in style. Since cremation is becoming increasingly popular, you can scatter the ashes with respect as opposed to abandoning the ashes to be scattered solely by the wind.
The scattering urns come in stylish designs, shapes and elegant patterns to help you soothe the pain away and preserve the memories. Our urns are built to suit the UK market, and you can order a customized one and still ensure you get value for money. You can even choose a scattering urn made of biodegradable materials to ensure you give your departed loved one a befitting send-off. Biodegradable urns are usually buried in the soil or left in water where it will decompose with time.
 Some people believe that the scattering of the crematory ashes releases the departed soul back to nature. The act of dispersing is a private affair and choosing the best urn for the job goes a long way in dealing with the loss. Also, some people believe the scattering of ashes is a holy affair, thus depending on your preference and wishes of the departed one you can get a scattering urn to perform the ritual.