Water burials - two unique and special ways to celebrate one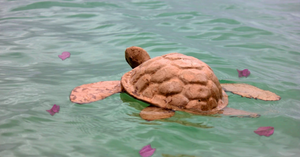 Water burials are a popular way to say a last farewell. Here is some useful information you should know before having one. Also, two unusual ways to celebrate a very special and unique water burial.
Facts about water burials
In the UK you can scatter ashes into the sea, a river, or a lake. If the river or lake is on private property you must get the land owner's permission.
You do not need to obtain a special permit. However, you should read these guidelines by the Environmental Agency.
Things to consider
If you are going to scatter the ashes in a public place be considerate of other people around. Maybe choose a time when there are few people for a more intimate moment. If you are going to just scatter the ashes we recommend using a scatter tube. These have an easy to open the lid, and their rounded form is easy to hold for stress-free scattering. Remember to consider the direction of the wind and scatter accordingly.
Water burials of ashes
Many people choose to use a biodegradable urn to contain the ashes. This is placed on the surface of the water. It floats for a short period of time before gradually sinking to the bottom where the ashes will be dispersed into the water.
There are many different shapes and styles of biodegradable urns available. Most are of hand-made paper and do not contain anything that could contaminate a body of water.
These are our favourites choices of biodegradable urns for special water burials shared with friends and family.
Biodegradable turtles
These delicately hand-crafted biodegradable turtles have a realistic aspect. These water-soluble urns are made from recycled paper stuck together with non-toxic glue. They are eco-friendly products perfect for a Green Burial.
The turtle comes in two sizes. You can share some ashes in the smaller turtles so that friends and relatives can take part together in the final farewell. Place the turtles on the water surface and watch as they float calmly on the surface for several minutes. The exact time before the turtles sink depends on the water and weather conditions.
Memento water-soluble urns
Our Memento water-soluble urns have a lovely rounded form and are hand-crafted using an antique mould. The urns are made from food-grade recycled paper and come with twenty notecards. On the upper surface, a small slot allows friends and family to insert their special note to accompany the deceased on their final journey.