Water-soluble paper urns for an ecological final farewell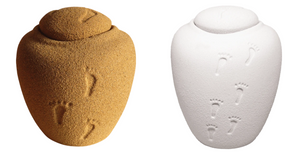 Water-soluble paper urns let you enjoy a tranquil and ecologically friendly farewell. They are handmade from responsibly sourced or recycled paper. They slowly dissolve in the water and release the ashes.
What are water-soluble paper urns made of?
The bark of the Mulberry tree is a popular choice for water-soluble urns. The bark creates a natural paper. It is hand stripped using an ancient technique that does not harm the tree. The tree keeps on growing and producing more bark. The resulting paper has a warm natural feel and a slight texture. Additionally, some of these handmade papers have small leaves or petals set in them. Their colours are all soft and gentle and come from natural sources. Recycled, food-grade, non-toxic paper also can be used to produce water-soluble paper urns.
Styles of water-soluble paper urns.
The Journey Earthurns come in a choice of four different sizes. They are rectangular and are available in many different gentle shades and textures.
The Memento Water-soluble Hand-made Paper Urn comes with twenty notelets that people can write a special message on. Then they place them into the slot on top to accompany the deceased on their final journey.
Antique moulds produce the Shell Water-soluble Hand-made Paper Urn.
The Turtle Water-soluble Urn comes in a large and a miniature size. Additionally, there is a newsprint version.
We also offer the Serentiy collection with a dolpin, a sand dollar, and a lotus flower to choose from.
How do I use my water-soluble urn?
Inside each one there is a special water-soluble bag into which you put the ashes. Then you place the urn on the surface of the water. They will float for several minutes and then slowly sink down below the surface. Once on the river or seabed they will totally dissolve within about four hours releasing the ashes into the water.
Where can I use my urn?
You can place the water-soluble urn into a river, a lake, or the sea. If the body of water is on private land, you should get permission from the landowner. You should also read the government guidelines about releasing ashes into bodies of water. If you are performing the ceremony in a public place, choose a time when there are not many people about. Also, be respectful of other peoples feelings and beliefs.
Why choose a water-soluble urn?
They are a green burial choice as they are produced from sustainable or recycled materials. The colours and glues used are natural and non-toxic. Additionally, they dissolve away to nothing so reducing the environmental impact and being in harmony with nature.